Sedation – Sleep Dentistry
Dental anxiety is one of the most common reasons why many of us fail to visit our dentists on a regular basis.  Dental anxiety is instilled gradually in us from previous unpleasant dental experiences.  At Valley Gentle Dental, our staff members are well trained and equipped with various techniques and technologies to reduce your anxiety, allay your fears and while provide you with almost painless and effective dental treatments.
Here is a list of some of the most common dental fears:
Fear of dental injections.

Fear of experiencing pain from certain dental procedures.

Fear of noises generated from dental equipments.

Fear of loss of control while in supine positions.

Fear of gagging sensation or inability to breathe.

Fear of taste and sight of bleeding.

Fear of the costs of certain dental procedures.
How to overcome dental anxiety?
Here are some tips to help reduce dental anxiety:
Talk to our dentist – Often, when we are able to voice our concerns and allowed to ask questions, any dental procedures may appear to be easier and less uncomfortable than initially thought. At Valley Gentle Dentist, rest assured that our dentists are well trained to address your concerns and answer any questions that might arise prior to any dental procedures.
Watching Television or Listening to Music – Distraction by watching a show on television or listening to your favourite music is very helpful in helping you to concentrate less on the actual dental procedures.  At Valley Gentle Dental, all our surgeries are equipped with television on ceilings, so you can enjoy your favourite television program while having your teeth attended to.
Using premedication – Some medications used prior to dental procedures may be useful to reduce dental anxiety.  At Valley Gentle Dental, our dentists can prescribe you with Valium before hand so you can be calm and relaxed during your dental procedures.
Happy Gas – If none of the above works, relative analgesia (inhalation sedation) or happy gas drug may turn out to be the right solution.  What is happy gas at dentist?  Happy gas or nitrous oxide gas can be used on most people including children during dental procedures.  When mixed with oxygen, nitrous oxide provides an anxiolytic effect.  Happy gas is safe and easily reversible.  Laughing gas dentist side effects are minimum.  You can even drive after using happy gas.  At Valley Gentle Dental, ask us about having your dental treatments done under happy gas, we will be more than happy to provide you with more information.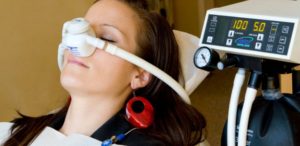 If you need multiple dental procedures, you also have the option of having all of those procedures completed under sedation or General Anaesthetic.  At Valley Gentle Dental, our dentists are highly qualified and have visiting rights to perform dental procedures under sedation or general anaesthetic while coordinating with a specialist anaesthetist at Maryvale Private Hospital in Morwell.   You will be asleep while we take care of your teeth and you will wake up with a new smile.
What are you waiting for?
So, ring us during office hours on 03-51748338 to book your dental appointment with our Traralgon Dentist. Alternatively you can book your appointment online now – our online appointment system is available 24/7.
 How to get to our dental clinic?
From Harvey Norman Traralgon, travel west along Princes Highway.  At Seymour Street, turn right. Our dental clinic is next to the old office of Latrobe Valley Express.