Dentures
Everyone of us is blessed with 2 sets of teeth- Baby teeth (Milk teeth) and Permanent teeth.  While baby teeth fall out, permanent teeth are supposed to last for life.  Unfortunately, sometimes permanent teeth are lost prematurely due to caries, gum disease, trauma and various other factors.  Consequently, they have to be replaced with dental prostheses.  There are many different types of replacement for teeth including Dentures, Porcelain Bridges and Dental Implants.
Full and partial dentures are removable dental appliances made to replace missing teeth.  Partial dentures types include acrylic and chrome-cobalt bases and the attached porcelain teeth are made to closely resemble your natural teeth.  Partial denture design vary depending on number of remaining teeth.
There are two types of dentures- full and partial denture plates.  Full mouth dentures are used when all of the teeth are missing, while partial dentures are used when some natural teeth remain.
A partial denture not only fills in the spaces created by missing teeth, it prevents other teeth from shifting.  Partial denture reline is sometimes necessary.
A full denture may be either "conventional" or "immediate."  A conventional full denture is made after all the teeth have been removed and approximately 12 weeks has lapsed to allow proper healing of gum and bone.  An immediate full denture is made in advance and immediately inserted into your mouth after all your teeth are removed, thus preventing the scenario of having to be without teeth during the healing process.  Once the gum and bone have healed, relining may have to done to ensure the immediate full denture fits properly.
Dentures are very durable appliances and will last for many years, but may have to be relined, repaired, or readjusted due to normal wear.  Cost of full set of dentures will be disclosed prior to your impression appointment.
Reasons for dentures:
Full Dentures – Loss of all teeth in an arch.

Partial Dentures – Loss of several teeth in an arch.

Enhancing smile and facial tissues.

Improving chewing, speech, and digestion.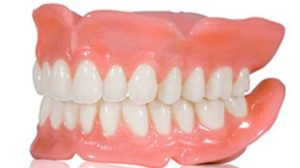 What does getting dentures procedure involve?
The process of getting dentures requires several appointments, usually over several weeks.  Highly accurate impressions (moulds) and bite are taken and used to create your custom fit dentures.  Several "try-in" appointments may be necessary to ensure you are entirely satisfied with the fit, colour and shape of your dentures.  At your final appointment, our Traralgon dentist will adjust accordingly and insert the dentures, ensuring a natural and comfortable fit.
It is normal to experience initial symptoms of increased salivary flow, some gum soreness, and even speech and chewing difficulties, however these will subside as you get used to the new dentures.
You will be given care instructions for your new dentures.  Proper cleaning of your new dentures, good oral hygiene, and regular dental visits will aid in the life of your new dentures.
What are you waiting for?
So, ring us today on 5174 8338 to see Mrs Corinna Carpenter for an obligation free consultation. Mrs Corinna Carpenter is also available for consultation at Pride Dental Care, Moe.
How to get to our dental clinic
From Bunnings Traralgon, travel west along Princes Highway. At Seymour Street, turn right.
Our clinic is right next to the old office of Latrobe Valley Express.