Dental Implants
Everyone of us is blessed with 2 sets of teeth- Baby teeth (Milk teeth) and Permanent teeth.  While baby teeth are designed to last into teenage years, permanent teeth are supposed to last for life.  Unfortunately, sometimes permanent teeth are lost prematurely due to caries, gum disease, trauma and various other factors.  Consequently, they have to be replaced with dental prostheses.  There are many different types of replacement for teeth including Dentures, Porcelain Bridges and Dental Implants.
Dental implants are titanium screws that are surgically inserted into maxilla (upper jaw bone) or mandible (lower jaw bone) by a dentist or a dental specialist to replace missing tooth or teeth.  These titanium screws are then connected via implant abutments on to porcelain crowns, porcelain fixed bridges or removable over-dentures. These dental prostheses are designed to mimic natural teeth and often can enhance a person's smile.
Unlike removable partial or complete dentures, dental implants are fixed and not removable. Dental implants are very stable and durable and will last for many years. However due to wear and tear, occasionally, they may have to be re-tightened or replaced.  At Valley Gentle Dental, popular well known implants used include Straumann and Nobel-Biocare.
Reasons for dental implants:
Replace one or more missing teeth without affecting adjacent tooth or teeth.

Resolve TM joint pain or occlusion problems caused by teeth drifting into space created by missing tooth or teeth.

Reinvigorate a patient's smile and restore confidence.

Restore important functions including eating and speech.

Enhance facial profile and bony prominence.

Reduce jaw bone resorption.

Support a bridge or denture, making them more secure and comfortable.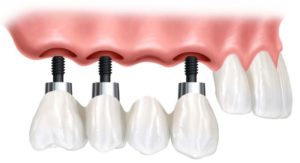 What does getting dental implants involve?
The process of getting dental implants requires a number of visits over several months.
After initial consultation to examine your suitability to receive dental implants, tests including X-rays (OPG and cone beam CT scan), photos and impressions (moulds) are taken of the jaw and teeth to determine the availability of bone, gum tissue, and spacing available for dental implants. The results of these tests are carefully analysed with our computer software and you will be informed of the outcome.  Sometimes, bone grafting may be required prior to or during the placement of dental implants and occasionally temporary prostheses may also be necessary to protect the implants during the initial healing phase.  You will then be required to sign a consent form and all costs will be disclosed for your perusal.  You will also be given the option of having this procedure done under sedation.
On the day of the surgery, the implant site will be anaesthetised,  and the implants will be surgically placed into the bone and allowed to heal and integrate with the bone for up to six months.  Depending on the type of implant, a brief second surgery may be required in order to uncover the implants to ensure proper bone and gum healing.
After several weeks of healing, a torque test and X-ray will be taken to determine the success of the implants.  Further impressions will be taken and sent to the lab for the final prostheses to be made.  During your final visit, these prostheses are thoroughly checked for their fit and colour before they are securely attached to the implants, providing excellent stability and comfort.
You will also receive after care instructions emphasising on the ways to look after them.  Good oral hygiene, eating habits, and regular dental visits will aid in the life of your new implants.
What are you waiting for?
So, ring us during office hours on 03-51748338 to book your dental appointment with our Traralgon Dentist. Alternatively you can book your appointment online now – our online appointment system is available 24/7.
How to get to our dental clinic?
From Traralgon train station, travel east along Princes Hwy.  When you reach Seymour Street, turn left. We are next to the old office of Latrobe Valley Express.